Travel Information
GETTING TO BUDAPEST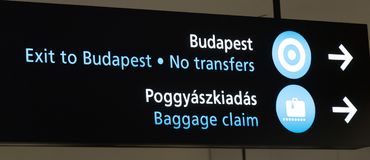 By plane
It's very easy to get to Budapest by plane - several low-cost airlines and also the national airline have great offers and services. Budapest International Airport is sixteen kilometres south-east of downtown Budapest.
By train
There are 3 main international railway stations in Budapest: Eastern (Keleti), Western (Nyugati) and Southern (Déli). More than 50 trains a day provide direct links between Budapest and 25 other European capital cities. Trains to Vienna run every 3 hours, 7 times a day.
By Coach
Volánbusz Rt. has scheduled passenger coach services to and from the following countries: Austria, Belgium, Bulgaria, Croatia, Czech Republic, Denmark, France, Germany, Great Britain, Greece, Italy, Lithuania, Macedonia, Netherlands, Norway, Poland, Romania, Serbia, Slovakia, Slovenia, Spain, Sweden, Switzerland, Ukraine.
AIRPORT TRANSFERS
We recommend
SUN TRANSFERS
for a quick, cheap and easy way to pre-order a transfer for when you arrive in Budapest.
GETTING AROUND
For information on how to get around Budapest once you are there please click ..here..
Budapest's public transportation systems are operated by the company BKV. The service includes buses, trolleybuses, trams, underground trains (Metro) and above-ground suburban trains (HÉV). More information can be found ..here..
Finally, ..here.. is some important tourism information which you may find handy during your stay!
---